In the modern world, the number of images that designers and stylists come up with and then recommend for use is growing exponentially every season. Few people can be surprised by the combination of the incongruous and the mixing of styles, but the rules of fashionable "safety" should not be neglected even in relation to the basic wardrobe.
blossomideasworld prepared a list of common things that can sometimes be fraught with real deceit.
1. Ballerinas with a business suit
Visually, ballet flats increase the fullness of the ankles – thus, in most cases, the legs become like a pair of loaves or wide posts. This is especially inappropriate in a business style that implies elegance. Here it is better to give preference, if not a "stiletto", then at least a small heel.
2. Long T-shirt over jeans
A long tight T-shirt over jeans makes the silhouette too elongated , and in combination with shorts, the image turns out to be doubly awkward. That is why it is better to tuck such a T-shirt into jeans. If this is not your option, you should give preference to free-cut models.
3. Bulky bag for a weekend event
The tote bag has gained fame as a universal thing: it can be combined not only with a casual look, but also with a business one. However, when going to a club or restaurant, it is better to give preference to more compact models. In these cases, the presence of a bulky bag in the image is inappropriate.
4. Ankle boots with a short skirt
Ankle boots rarely go well with skirts. Visually, this type of shoe, often reaching to the ankle, shortens the legs. The mini-skirt only enhances this unwanted effect. Classic pumps are best combined with her, and in the cold season – jackboots.
5. "Wide" things – several and at once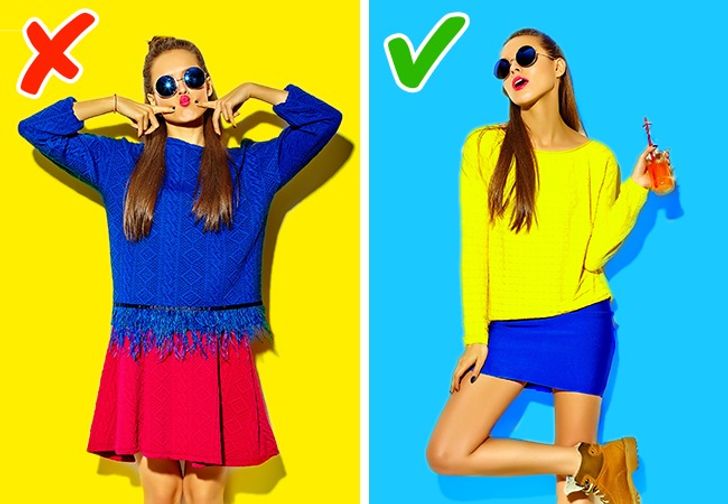 Several wide things in one look completely hide those shapes that should be emphasized (waist, hips, chest). Therefore, if you really want to wear something wide, it is better to balance the other part of the image with clothes that fit your figure.
6. Tights combined with shorts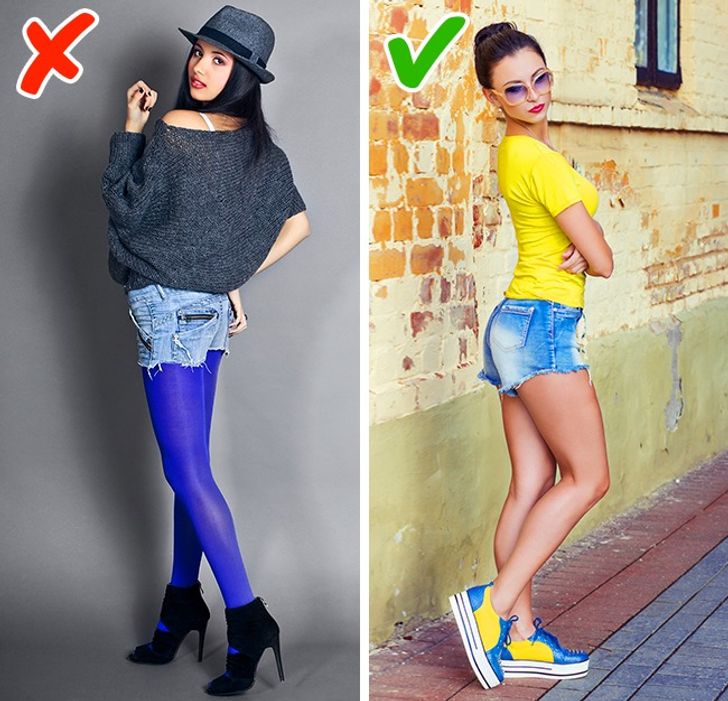 In the traditional sense, shorts are a summer type of clothing that does not imply any addition. It is better to put them off until the appropriate season , rather than create ridiculous looks with tight, shiny and any other tights.
7. Tulip skirt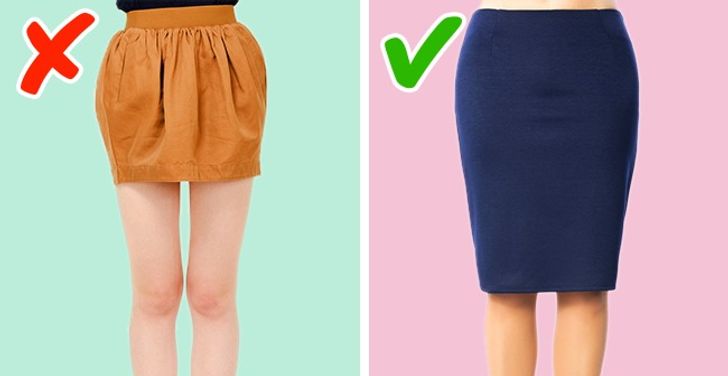 This look is "safe" for the figure if the fit of the skirt is on the hips. A "tulip" with a high belt looks good only if you stand upright. During movement, the illusion of a protruding belly is created – even for slender girls. If in doubt about the choice of style, it is better to give preference to the classics, again, not forgetting about the type of figure.
8. Larger shoes

The oversized shoes look tasteless. It is better to go to the store for shoes in the morning , because by the end of the day , your legs often get tired and swell. Consequently, the size of the shoes "moves away" from the desired one. The result is an ugly protruding "heel".
9. Turtlenecks and things with a high neckline
Such clothes should be treated with caution: the neck in it may visually become shorter, and the figure may become closer to the shape of a square . It is better not to neglect things with a cut, if necessary, wisely supplement them with shawls or scarves.
10. Jeans that fit out of shape
Denim has a tendency to stretch. Therefore, if at the first fitting jeans "sit" freely, then there is a risk of getting a thing that over time will not only cease to emphasize the dignity, but also add shapelessness to the figure. By purchasing jeans that are a little narrow (just a little, and not less by size), you give them and yourself a chance to keep their good appearance longer.